Bifidobacterium breve CCFM1025
Bifidobacterium breve CCFM1025 | Psychobiotics probiotics
Anti-depression 
Daily dosage in clinical study
10 billion CFU for 4 weeks
Human clinical trial
Bifidobacterium breve CCFM1025 Attenuates Major Depression Disorder via Regulating Gut Microbiome and Tryptophan Metabolism: A Randomized Clinical Trial, Brain, Behavior, and Immunity (2021)
Arthur: Tian, P., Chen, Y., Zhu, H., Wang, L., Qian, X., Zou, R., Zhao, J., Zhang, H., Qian, L., Wang, Q., Wang, G., Chen, W.
Chinese Clinical Trial Registry (NO. ChiCTR2100046321),Evaluation of depression and somatization symptoms by Hamilton's Depression Scale (HAMDS), Montgomery Depression Scale (MADRS), Concise Mental scale(BPRS)and Gastrointestinal symptom Scale(GSRS)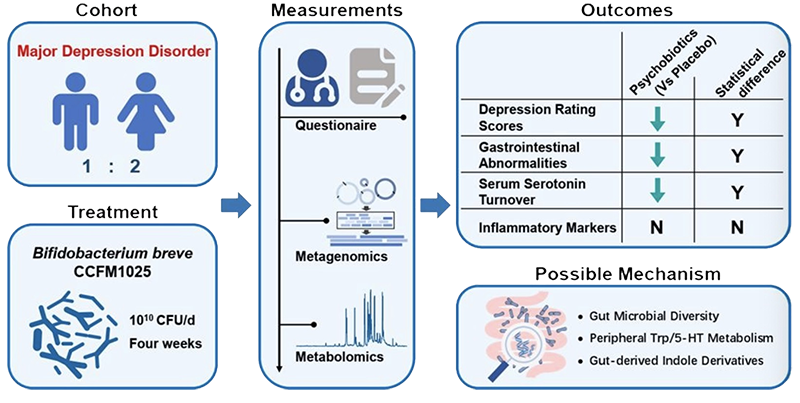 Flow chart of study procedures
FUNCTIONALITY
Manage Major Depression Disorder • Regulate Gut Microbiome and Tryptophan Metabolism •Regulate Hosts' Serotonergic System
Why CCFM1025
During the past year, the spreading of the Severe Acute Respiratory Syndrome Coronavirus (COVID-19) pandemic seems to worsen global mental wellbeing situations (Organization, 2020)
The widespread anxiety, social isolation, financial stress, and traumatic memories dramatically increased people's susceptibility to MDD (Rogers et al., 2020). 
The use of traditional psychotropic drugs, such as Selective Serotonin Reuptake Inhibitor (SSRIs) (El Mansari et al., 2005, Thase et al., 2001, Trivedi et al., 2006), is often reported to be ineffective, and it could post endocrine and gastrointestinal side effects.

APPLICATION
Bifidobacterium breve CCFM1025 is ideal for capsules, tablets, and stick-packs.
+ More details are available upon request